Back
2023/03/06
2022-2023 Study in Taiwan Survey Report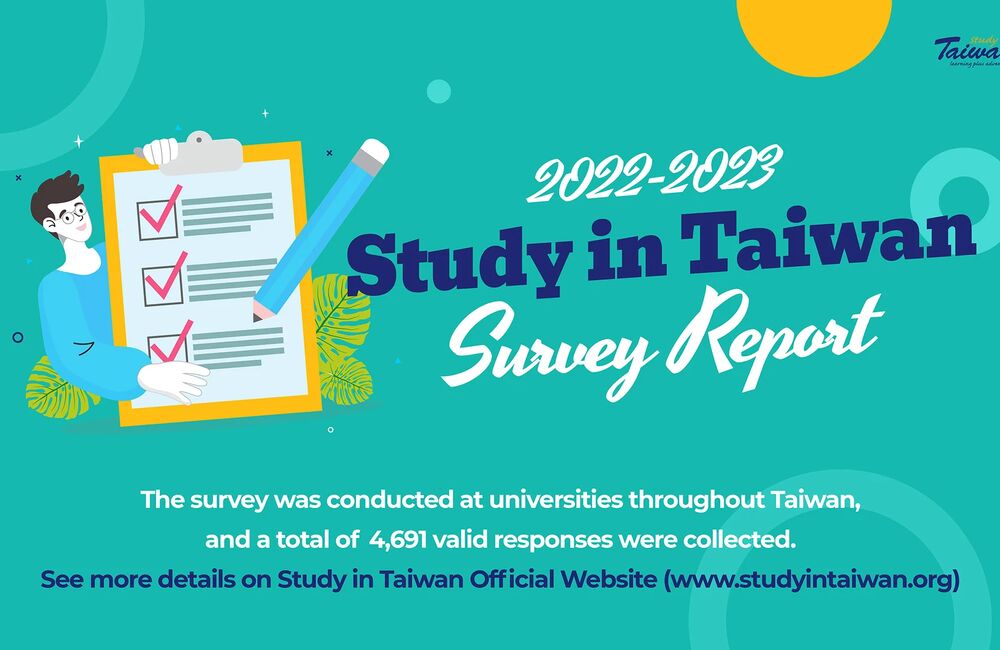 The past decade has seen the gradual internationalization of Taiwan's higher education system, though international enrollment at Taiwan's colleges and universities has fallen steeply over the past three years due to the COVID-19 pandemic. As the threat of COVID recedes and international exchanges begin to recover, the Foundation for International Cooperation in Higher Education in Taiwan (FICHET) continues its biennial survey of overseas students in Taiwan to better understand their motives for coming to Taiwan, their general conditions during their stay, and their intention of staying on after graduation. The survey was conducted at universities throughout Taiwan from November 28 to December 21, 2022, and a total of 4,691 valid responses were collected.
Opportunities to stay and work in Taiwan, along with the academic reputations of individual universities, have a decisive impact
The 2022-2023 survey results revealed that foreign students were primarily drawn to Taiwan by its "friendly and welcoming culture" (44.9%), "good academic quality and reputation" (42.7%), and "potential for working or settling in Taiwan" (35.8%). In contrast, the 2020 survey results showed a greater focus on economic considerations, such as "scholarship availability" and "cost of study". When it comes to selecting specific universities, the most important factor was the "reputation and characteristics of the institution" (50.5%), followed by "courses that appeal to personal interests" (47.9%) and "friendly and internationalized campus" (33.2%). Overall, these results demonstrate a shift in emphasis towards cultural and social factors over economic considerations, showcasing Taiwan's reputation in academic excellence and its potential as a destination for long-term career development. The increasing importance of university prestige and academic excellence over time indicates that ongoing brand and marketing strategies have had a decisive impact on international enrollment.
Figure 1: Motives of studying in Taiwan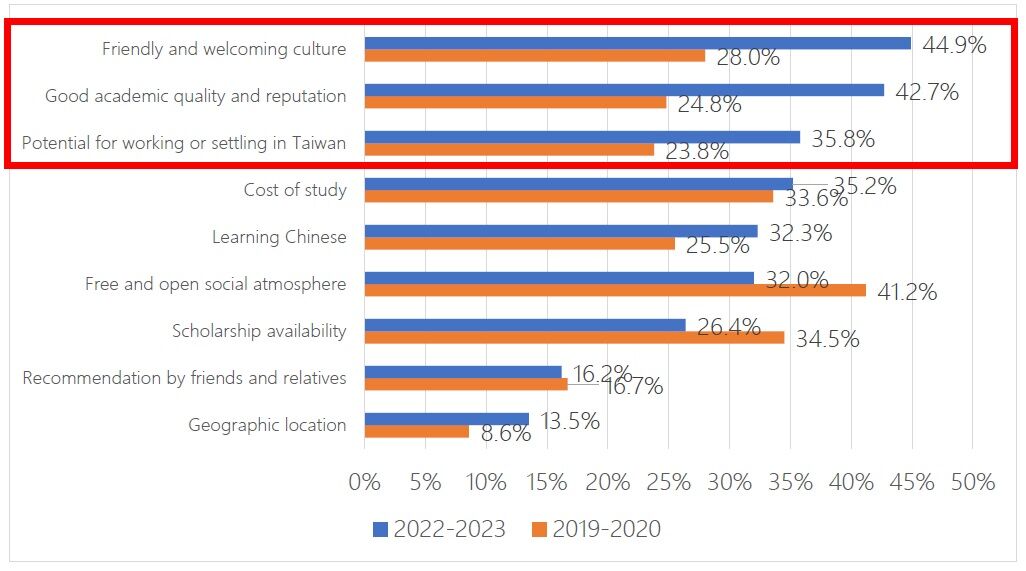 Figure 2: Primary consideration for selecting current academic institution*
*"Friendly and internationalized campus" is newly added to the 2022-2023 survey, so no comparison is made to the 2020 survey.
In the face of COVID, interaction between overseas students and local Taiwanese people has actually increased, with universities providing effective support
The primary factor contributing to the satisfaction of overseas students in Taiwan was "interacting with local people" (45.0%), followed by "education quality" (35.9%) and "living environment" (35.5%). The main challenges faced by most overseas students were "living expenses" (43.4%), "communicating in Chinese" (41.9%), and "adapting to the academic environment" (41.6%), similar to 2020. Despite the challenges brought on by COVID-19, the efforts of international affairs personnel and teachers at each university have successfully fostered close interaction between domestic and overseas students, which has significantly reduced isolation and loneliness among overseas students. As a result, the number of respondents citing "interacting with local people" as a significant source of satisfaction has risen from 20.4% in 2020 to 45.0% in the current results. These results highlight the importance of financial resources, teachers, overseas student communities, and support from Taiwanese peers in helping international students adapt to their life in Taiwan. 

Figure 3: Greatest satisfaction while studying in Taiwan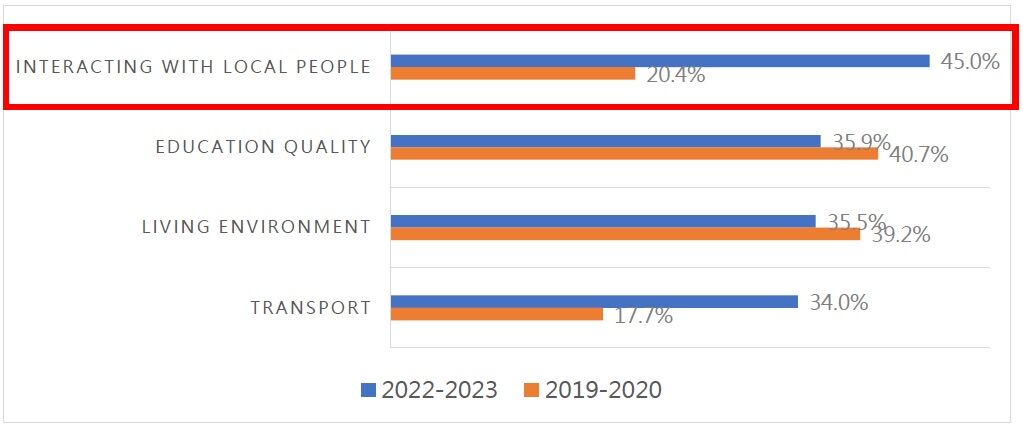 Figure 4: Greatest challenge while studying in Taiwan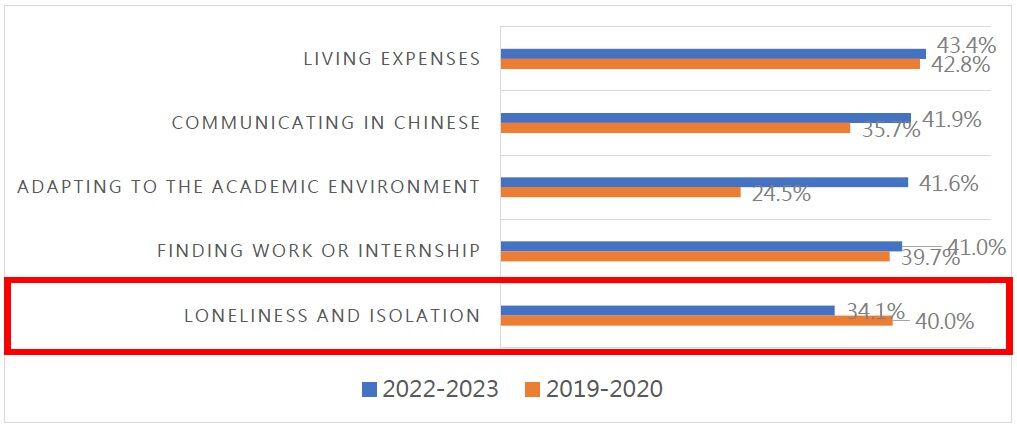 Figure 5: Most important source of assistance*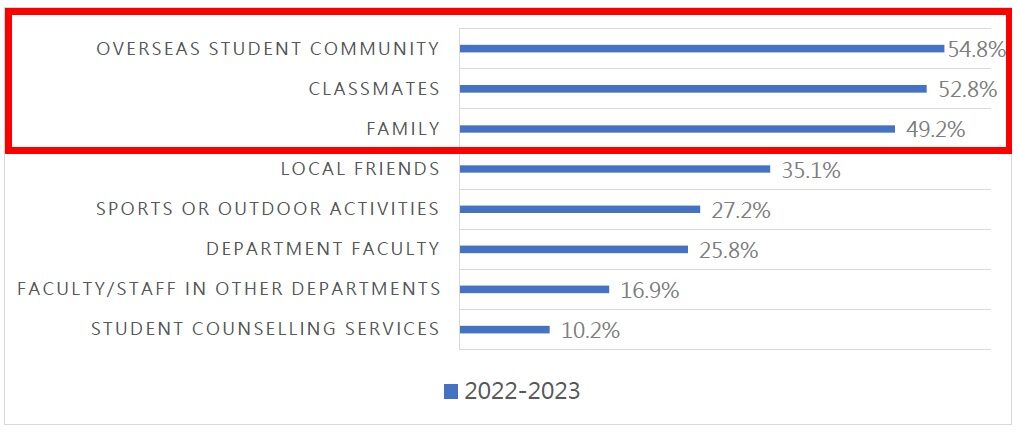 * This topic is newly added to the 2022-2023 survey, so no comparison is made to the 2020 survey.
Favorite majors: Business & Law, Arts & Humanities, Engineering & Construction
The largest group of respondents in 2022-2023 survey were overseas Chinese students (including those from Hong Kong and Macao), comprising 45.2% of the respondents, followed by foreign degree students (41.1%), degree students from China (6.2%), Chinese language center students (3.8%), foreign exchange students (3.5%), and exchange students from China (0.1%). As for fields of study, "Business, Management, or Law" was the most popular concentration, with 22.9% of respondents, followed by "Arts and Humanities" (16.6%) and "Engineering, Manufacturing, or Construction" (11.4%). Although this trend is consistent with the 2020 results, the percentage of "Arts and Humanities" majors has increased from 11.9% to 16.6%.

Figure 6: Distribution of academic concentrations*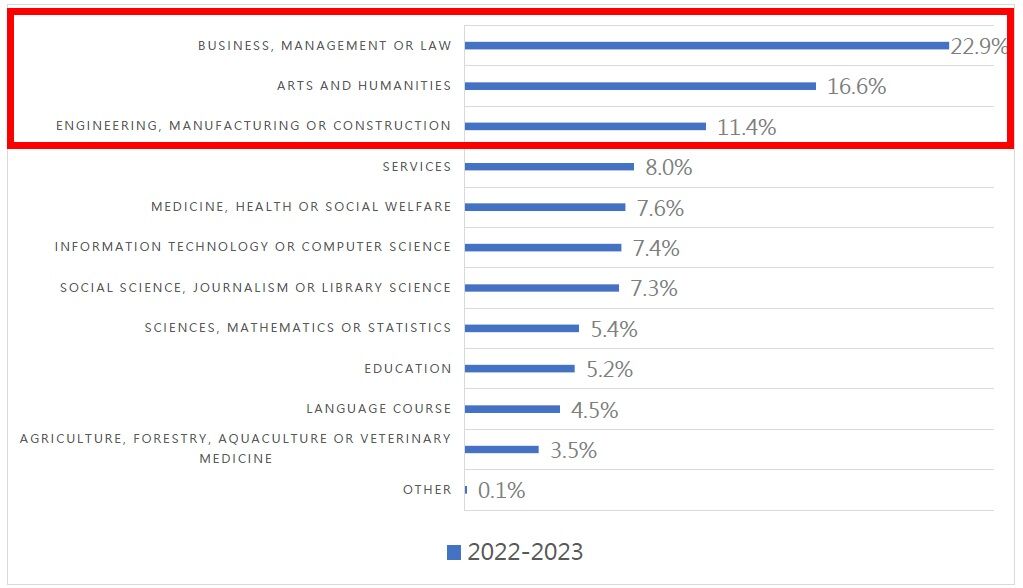 * Response options were based on MOE university and college statistics for 2022-2023, which differs slightly from that of 2020; therefore, no direct comparison is made between the results of the two surveys.
Social media preferences have shifted over the past five years, and the role played by government missions overseas has gained importance
"Internet or online social networking" was found to be the most important source of information about studying in Taiwan, cited by 67.9% of the respondents in 2022-2023 survey, followed by "relatives and friends" (54.4%), "educational fairs or student recruiting exhibitions" (43.5%), and "previous school" (31.1%). While these rankings are consistent with the 2020 results, "Internet or online social networking" has increased from 61.2% to 67.9%, and "Taiwan embassy or representative office" also has increased significantly by about 12.6%, making it an important channel for potential applicants to obtain information about studying in Taiwan.
In addition, the current survey results show that social media usage of overseas students have changed significantly in recent years, with Instagram replacing Facebook as the most widely used social media platform (an increase from 73.0% to 78.5%), while YouTube usage has also increased from 35.1% to 38.9%, at the expense of other platforms.

Figure 7: Main sources of information about Taiwan's higher education opportunities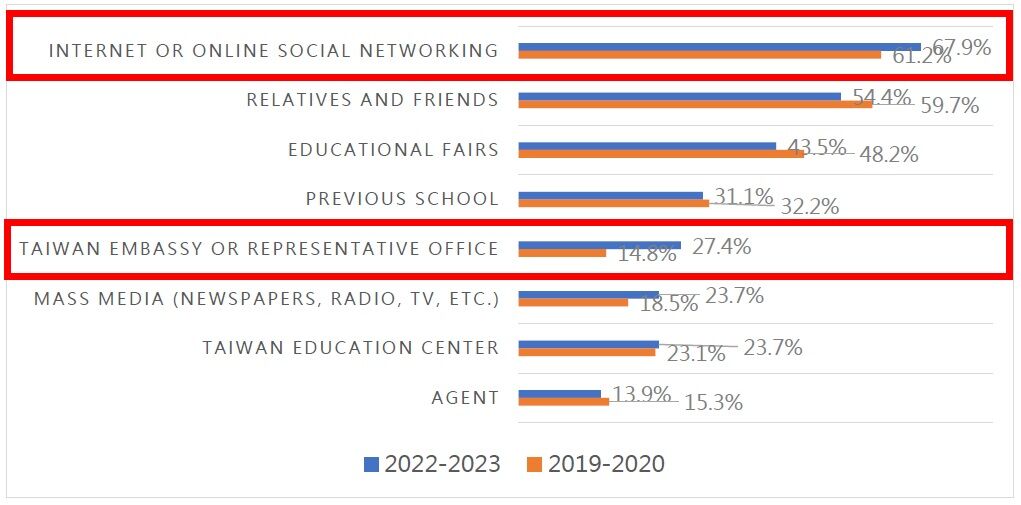 Figure 8: Preferred social media*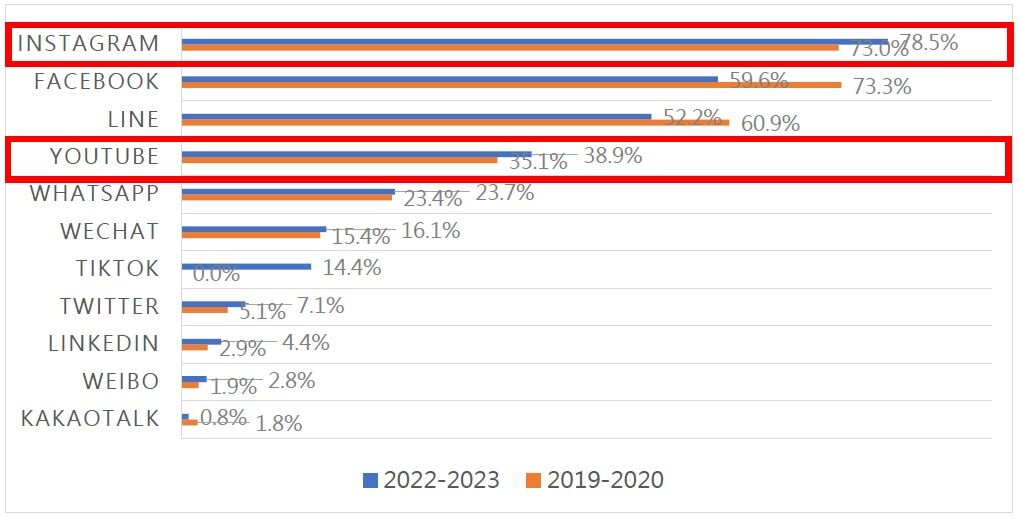 *"TIKTOK" is newly added to the 2022-2023 survey, so no comparison is made to the 2020 survey.
In summary, approximately 80% of respondents chose "staying in Taiwan for work" as a key motive to select Taiwan as a study abroad destination, indicating a high degree of interest in pursuing ongoing professional development in Taiwan, and nearly 85% of respondents indicated they would recommend Taiwan as a good place to learn Chinese to their friends back home. These results emphasize the significance of career development opportunities in attracting overseas students and the need to integrate career counseling and legal guidance into the enrollment strategies in Taiwan's higher education sector.
The 2022-2023 survey results provide valuable insights of the overseas student community in Taiwan. These findings suggest possible strategies to take in order to increase student enrollment, enhance brand marketing, and better assist overseas students. FICHET would like to express our gratitude to everyone who helped facilitate this survey. We look forward to continuing to collaborate with all parties to attract and educate top-tier international talent. Taiwan is always a strong advocate in cultivating future talents for a better world to share with all.


Figure 9: Do you plan to stay in Taiwan to work after graduation?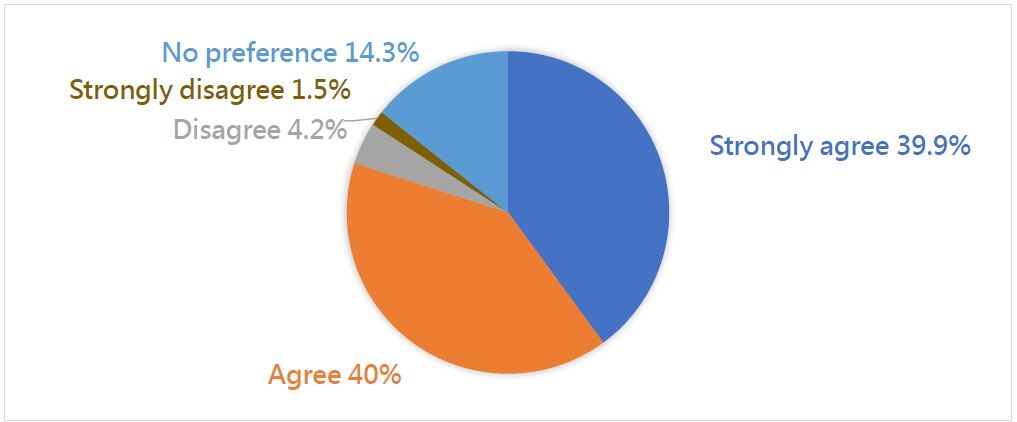 Figure 10: Would you recommend Taiwan as a good place to learn Chinese?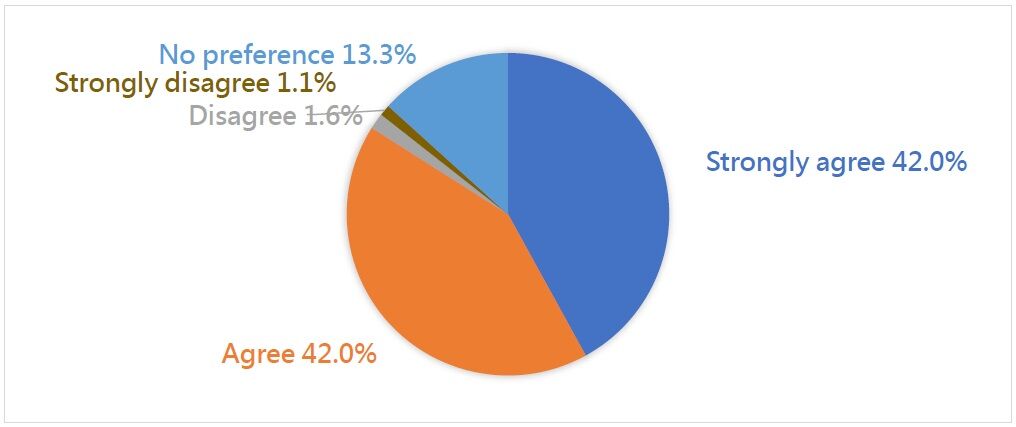 Source: Study in Taiwan, https://www.studyintaiwan.org/news/content/135