Back
2022/09/19
2022 "Study in Taiwan" Adventure Video Contest Selection Now Open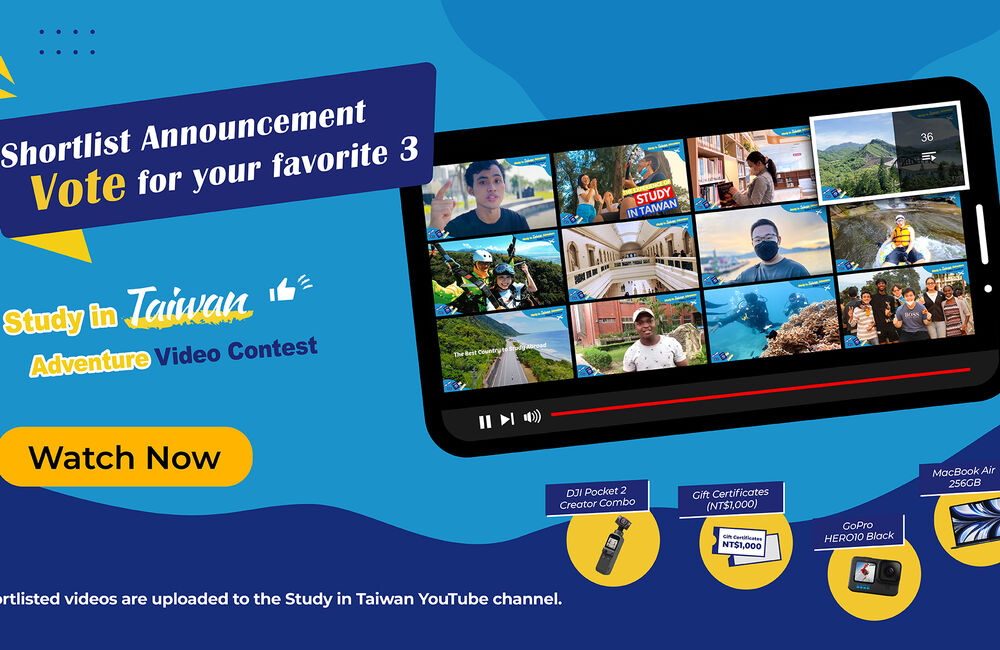 【Video Selection Method】
1. Event Schedule
Selection Period: Through 10:00 am, October 17, 2022 (Monday)
Winners will be announced before October 24, 2022 (Monday) on the Study in Taiwan website (along with any relevant announcements)
2. Selection Method
The shortlisted videos have been uploaded to the Study in Taiwan YouTube channel, and the video with the three highest views during the selection period will be declared the winners.
3. Prizes
1st Prize(the most viewed): MacBook Air 512GB
2nd Prize(the second most viewed): Go Pro HERO10 Black
3rd Prize(the third most viewed): DJI Pocket 2 Creator Combo
10 Special Prizes(the fourth to thirteen most viewed): NT$1,000 Gift Certificates
4. Event Notices
We reserve the right to terminate, alter or suspend this event and to modify the official regulations at any time.
Failure to observe the required specifications will result in disqualification.
Prizes may not be exchanged for cash or other alternatives.
If the winners misses the acceptance deadline or is found to be otherwise ineligible, their win will be voided.
If no submission meets judges' criteria, Study in Taiwan reserves the right to declare no winner.
Under R.O.C. law lottery/raffle prizes are subject to taxation of 10%~20% (according to how many days stay in Taiwan and must provide a Certificate of Entry and Exit Date )of the prize value for non-residents.


Source: Study in Taiwan, https://www.studyintaiwan.org/news/content/129