Back
2022/10/13
CORONAVIRUS/International student '0+7' policy to come into force Oct. 13: MOE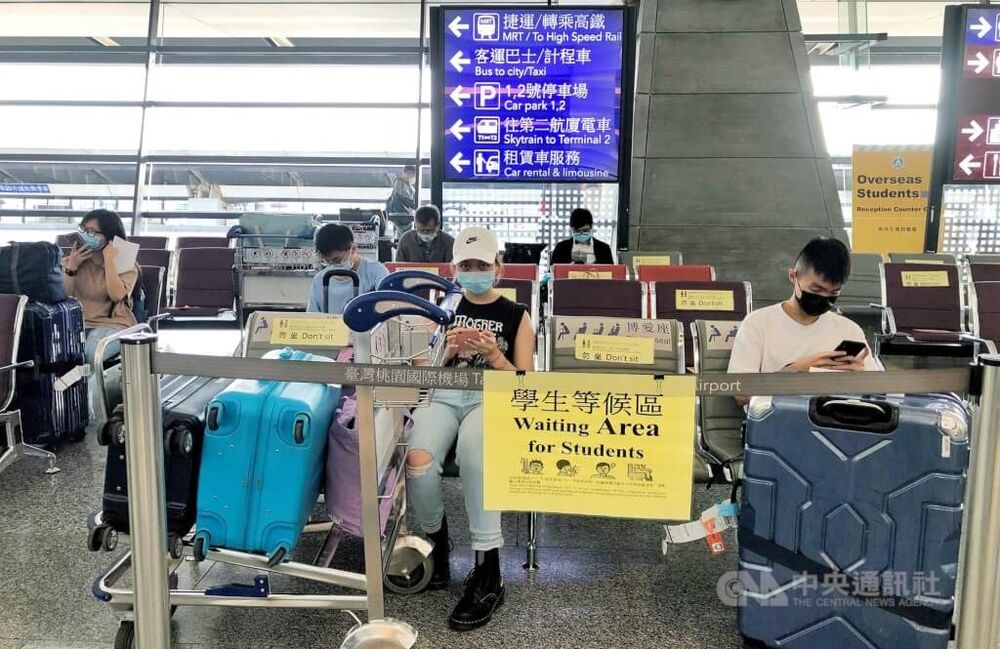 【Forwarded News】
Taipei, Oct. 6 (CNA) With Taiwan set to introduce its new "0+7" COVID-19 policy for inbound travelers on Oct. 13, the Ministry of Education (MOE) announced a foreign student-specific version of the new regulations on Thursday, tailored to meet the unique needs of international students entering Taiwan.
Like the nationwide 0+7 policy, the new rules for foreign students also come into force on Oct. 13, the MOE said, with international students no longer required to undergo mandatory quarantine on arrival. Instead, they will need to observe seven days of "self-initiated epidemic prevention."
The new policy will apply to about 6,000 students slated to enter Taiwan by the end of the year, MOE Chief Secretary Liao Hsin-kuo (廖興國) said at the Central Epidemic Command Center (CECC) daily press briefing.


For international students
Foreign students may attend classes physically during the seven-day self-initiated epidemic prevention period as long as they provide their schools with a negative rapid test taken within the past two days, meaning students will have to take a test every two days during the first week after arriving in Taiwan, according to Liao.
When dining, international students observing seven-days of self-initiated epidemic prevention are required to eat alone or with designated individuals such as roommates or housemates who are also observing the same regulations, he said.
Additional amendments to foreign student-related policies include returning entry management responsibility for students to schools, Liao said. After Oct. 13, schools will no longer need to submit details of accepted international students for approval by the MOE.
An official at the ministry added that the new policy also means school administrative personnel will no longer have to work overtime as they have during the pandemic to report the status of inbound students to the CECC at every stage of their arrival in Taiwan.
Liao also elaborated on residential requirements for inbound students, saying that students can stay with family members, in hotels, self-rental units and school dormitories as long as said locations have independent bedrooms and bathrooms.
However, students who arrive on the same day can choose to spend the epidemic prevention period together in the same dormitory, though they will have to follow CECC directions, including home quarantine and related measures if one of them tests positive for COVID-19, he said.
Students who live alone in a dorm during the seven day self-initiated epidemic prevention period will be required to move into a quarantine dormitory provided by the school if they display COVID-19 symptoms, and to a "caretaking dorm" when they test positive.
Students who enter Taiwan displaying COVID-19 related symptoms will be placed in a quarantine dorm immediately by their school and be required to take a saliva PCR test, Liao said.
On arriving in Taiwan, students who do not display COVID-19 symptoms may take public transportation or be picked up by friends, family or their schools, he added, while those displaying symptoms will ride in vehicles accommodated by their schools.


Updated policy for local high schools and below
Meanwhile, the MOE said current requirements that a student or member of faculty should not go to school for a week if a roommate or family member living under the same roof tests positive for COVID will end on Oct. 13.
The new policy will allow students, members of faculty and staff to go to school while observing seven days of self-initiated epidemic prevention, as long as they are fully inoculated with three shots of COVID-19 vaccines.
They must also show no symptoms and provide a negative rapid tests taken within two days for one week.
If they develop COVID-19 symptoms, such students, members of faculty and staff will not be allowed to go to school.
If a family member of someone who is not fully inoculated tests positive for COVID-19, for example a family member of a child between the ages of 5 and 11, those children are required to observe the "3+4" protocol and quarantine at home for three days followed by four days of self-initiated epidemic prevention where they can go to school, Liao said.
(By Chen Chieh-ling, Shen Pei-yao, Chen Chih-chung and James Lo)
Date:2022-10-13
News Source: Focus Taiwan
Photo: CNA file photo